Optical Showroom Interior Designing Services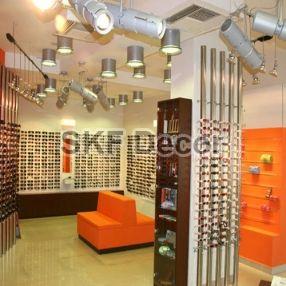 Best Optical Showroom Designing Professionals
SKF Decor is the leading interior designer that offers the world-class Optical Showroom Designing in Delhi with the perfect design and execution considering technical aspects. We have vast experience in this domain and has gained a lot of reputation in the market by designing various appealing optical showrooms in Delhi successfully.
On-Time Completion
We have a dedicated team of designers who design and execute the optical showroom designing work within the stipulated period of time. We provide value for your money and time. That's we always make sure to deliver the outstanding Optical Showroom Designing Services in Delhi at the best prices and on-time.
Unique Designs
All our designing work is different and unique. We consider each and every aspect of designing to create an elegant and functional space for your optical showroom. Our designs are of international standards and we firmly believe in providing a great experience to all our customers. You can trust us to design an aesthetically appealing optical showroom.
Read More...
Looking for "
Optical Showroom Interior Designing Services

" ?