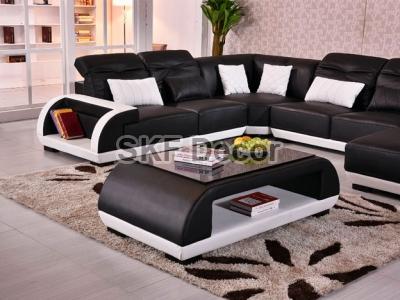 A modern house currently looks incomplete without a sofa. However, modern sofa sets give the house the feel it needs and give people a snug space to enjoy some pleasant and comfortable moments. They not only present a nice and pleasant feeling but also add to the aesthetic feeling of the home. In a simple home, a modern sofa can add to the charm and appeal and make it come alive.
Once an ideal sofa is in place, you can add more complimentary furniture making the entire house look gracious and welcoming.
How to find the best piece from modern sofa set suppliers?
Choosing from modern sofa sets is relatively easy these days. It's as simple as walking into a reputable sofa set supplier in Delhi and making your choice. Some manufacturers and suppliers may also offer custom building choices, and you can also lay your hands on sectionals. If you do not have any experience in choosing a sofa yourself, you can always take the help of a friend or a neighbour who has the proper exposure to such a sofa. Choosing the correct pattern of modern sofa will surely make you feel pleased and create an everlasting impression in the minds of your guests.
Features of the best quality sofa set in Delhi:
Luxurious and Comfortable
Modern sofa sets' designs come with a luxurious look and appeal boosts the worth of living rooms and lounges. Those who value sofa sets as necessary don't hesitate to invest in the most expensive luxury sofas. Buy them in different budget ranges coming in luxury for all budgets.
At the same time, modern sofa designs are manufactured as the most comfortable. Many features add comfort to these sofa sets from soft cushions and back designs to relaxing seating.
Perfect Styling
Another excellent feature of modern sofa sets is giving the style statement. They come with sleek lines and elegant curves, which invite constant attention. Unique stitching details by the seats add to the appearance and classiness. Homeowners take benefit of the availability of these sofa designs in contemporary styles and the mix of modern and classic designs.
The modern sofa sets suppliers to offer broad varieties like
• L-shaped sofas,
• modular sofas and
• vintage sofa designs.
Some of these designs resemble classical eras but also have a modern touch.
Huge Variety
There are huge varieties available in colour, including black, granite, brown, red, blue, khaki and many more customized colours available in different fabrics. Modern Sofa set suppliers in Delhi have shown sofa sets in numerous fabric types. Varieties are also accessible in terms of sizes, shapes and types of stitching.
Customizable Designs
They can also be customized to meet the choices and preferences of different buyers. The customers can choose a particular design and order a different type of upholstery for the same. Custom cushion filling styles by the manufacturers can also be used to have these sofas in desirable designs. Not only that, there is a choice to get these sofa sets with adjustable headrest and armrest designs. This means that custom relaxing options can be obtained with modern sofa sets.